Bio Nova
At BIONOVA premium fertilizers our main goal is to provide THE MOST COST-EFFECTIVE FERTILIZER in the world. We supply maximum concentrated fertilizers and stimulators, as no cultivator benefits from low concentrated fertilizers because these are high in costs. BIONOVA has over 40 years of experience in the professional agriculture of Holland and supports cultivators in more than 25 countries.
Innovative and always in contact and cooperation with cultivators to supply their needs, so they can say with confidence this is "My Way To Grow". Are you curious to see which quantities you need for your operation, and which costs will be involved. Get in touch with one of our professionals.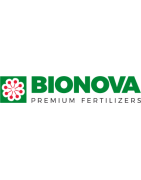 Subcategories
The most natural and cleanest way of feeding your crops, 100% Vegan – no animal ingredients inside, just vegetal clean nutrients!